ReturnGO integrates with Cargo to help you manage your return shipping.
Cargo is an Israel-based shipping carrier that is available only to stores based in Israel.
Learn more about Cargo here.
Capabilities
The Cargo integration supports return labels.
| | | | | |
| --- | --- | --- | --- | --- |
| Return Labels | Return Tracking | QR Codes | Auto Select Cheapest | International Shipping |
| | | | | |
See a full feature comparison with other shipping carriers.
Requirements
To link your Cargo account to ReturnGO, you will need:
The integration of your ReturnGO account with Cargo must be enabled by Cargo.
Linking Your Cargo Account to ReturnGO
To link your Cargo account to ReturnGO:
Go to Return Methods.
Click SHIP WITH PRE-PAID LABEL.
Click EDIT.
Open the Shipping Label Settings section.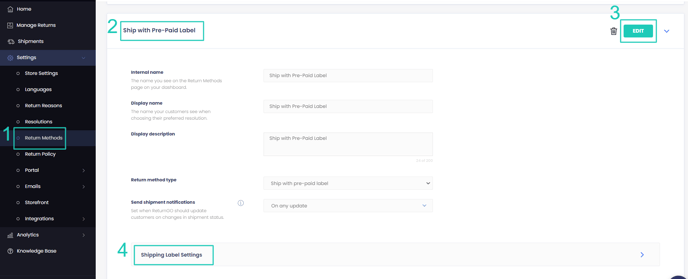 5. Set Integrations to Cargo.
6. Enter your Cargo credentials.
7. Click CONNECT. If the connection is successful, the rest of the settings will be editable.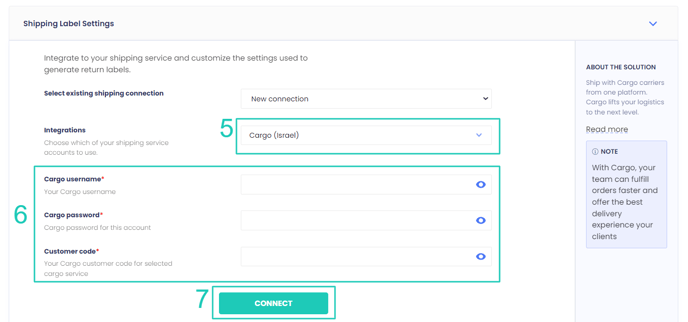 8. Set up your integration settings.
9. Verify your return address and shipping instructions.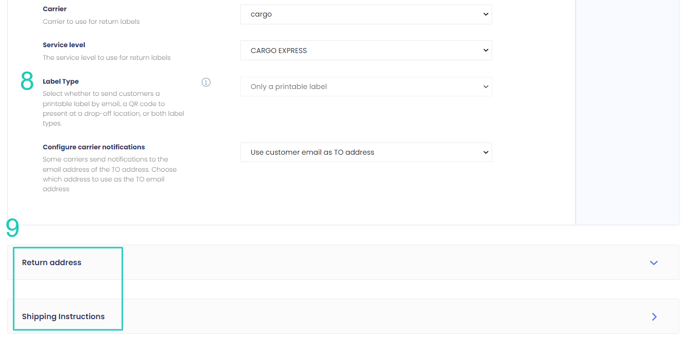 10. Scroll up back to where the EDIT button was and click SAVE.

Troubleshooting the Integration
For Cargo-related issues, please contact Cargo support.
For any other issues, feel free to contact ReturnGO Support through chat or email.