ReturnGO integrates with Rise.ai to help you provide store credit via Rise.ai instead of directly through ReturnGO. Rise.ai is a loyalty platform that enables you to retain customers and increase profitability.
Requirements
Premium plan or above in Rise.ai.
Available on all ReturnGO subscription plans.
Capabilities
When customers select the Rise.ai refund resolution, they will get a refund via Rise.ai's store credit.
Note: Both manual and automatic refunds are available using the Rise.ai integration.
Linking Your Rise.ai Account to ReturnGO
Before you connect your Rise.ai and ReturnGO accounts, you will need to activate the integration through the Rise.ai dashboard.

In the Rise.ai dashboard, go to Integrations (found on the bottom of the left-hand side menu), look for ReturnGO, and set the toggle to ON to activate the integration.

Once that's complete, go to your ReturnGO dashboard:
Click on +ADD PRODUCT OR SERVICE.
Choose Rise.ai from the drop-down list, under Refund Services.

4. Click on the check mark to connect.

5. On your Rise.ai dashboard, go to Integrations (bottom of the left side menu).
6. On the list of available integrations, switch on the toggle of the ReturnGO integration.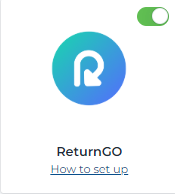 How it Works
Once connected, ReturnGO will create a custom trigger for the refund action using Rise.ai's API.
The custom trigger will be a part of a new template you can add. The template will be pre-configured for your convenience.
To use the custom trigger, go to your Rise.ai dashboard and navigate to Loyalty and Rewards > Create Workflow.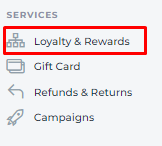 4. Scroll down to Third Party App Templates > ReturnGO.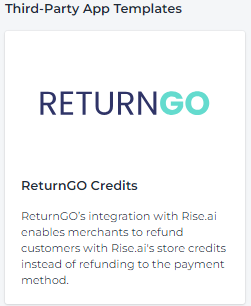 5. Click ACTIVATE on the popup that contains template information.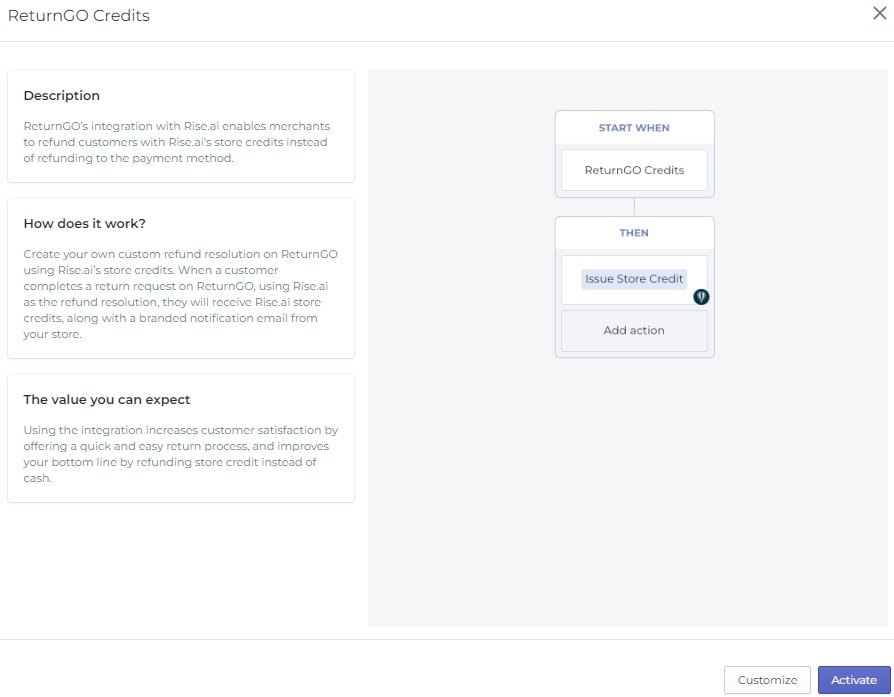 6. The action will be set to Issue Store Credit.
7. The type will be set to For every with an increment of 1 USD for every 1 credit provided.

8. When the customer selects a Rise.ai refund, the trigger will be activated and a refund will be issued using Rise.ai credits.
9. Rise.ai will send an email to the customer once a refund is issued.
Note: Changing the actions described above may cause unexpected results that may not be supported.
Configuring Rise.ai Refunds
To offer refunds through Rise.ai credits, you need to create a return resolution for Rise.ai credits.
To create a resolution:
Go to Settings > Resolutions.
Click on the type of resolution you want to create - refund or exchange.

3. Click ADD RESOLUTION.

4. Set the name and description of the resolution.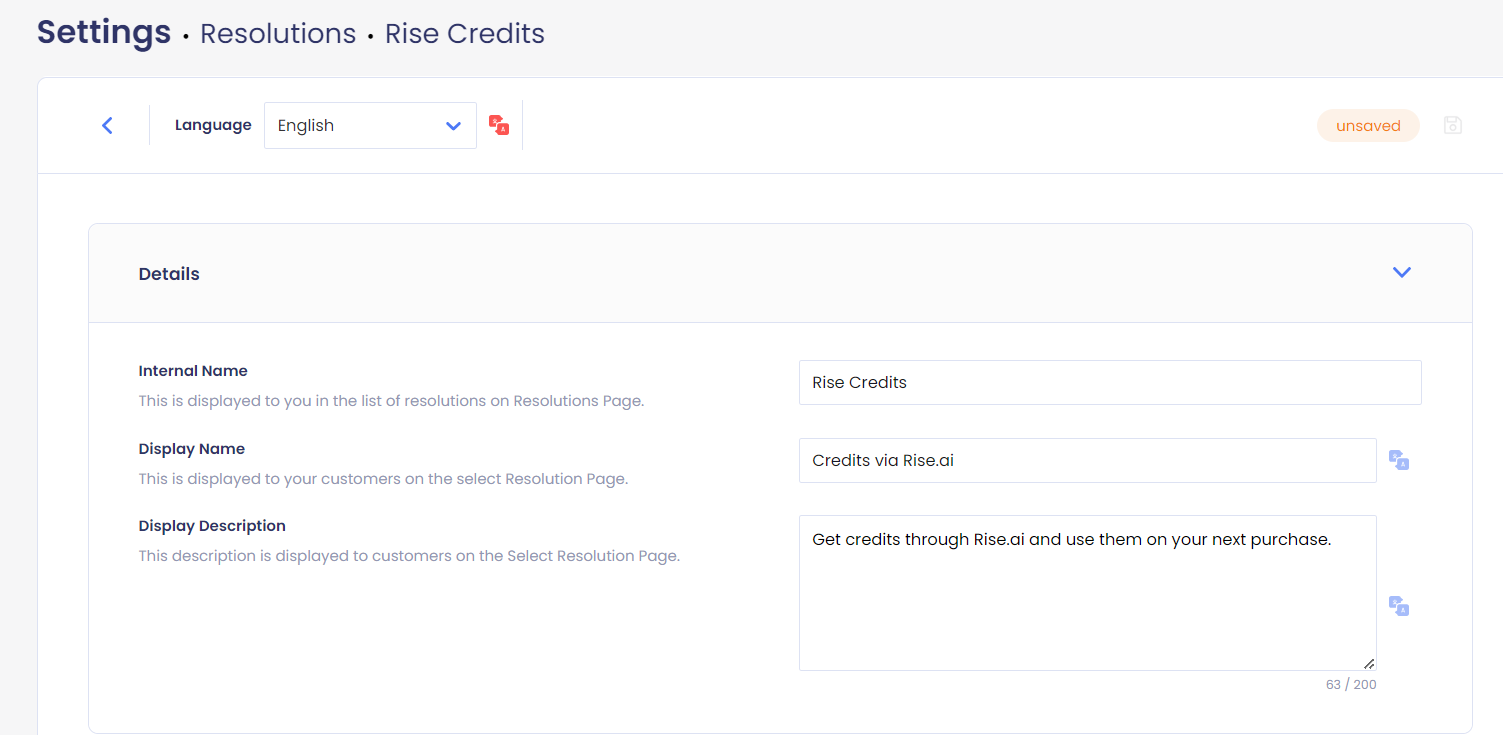 5. Set the refund type to
Refund Service
.
6. Under
Integration
, select
Rise.ai Store Credits
.
7. Click on the save icon.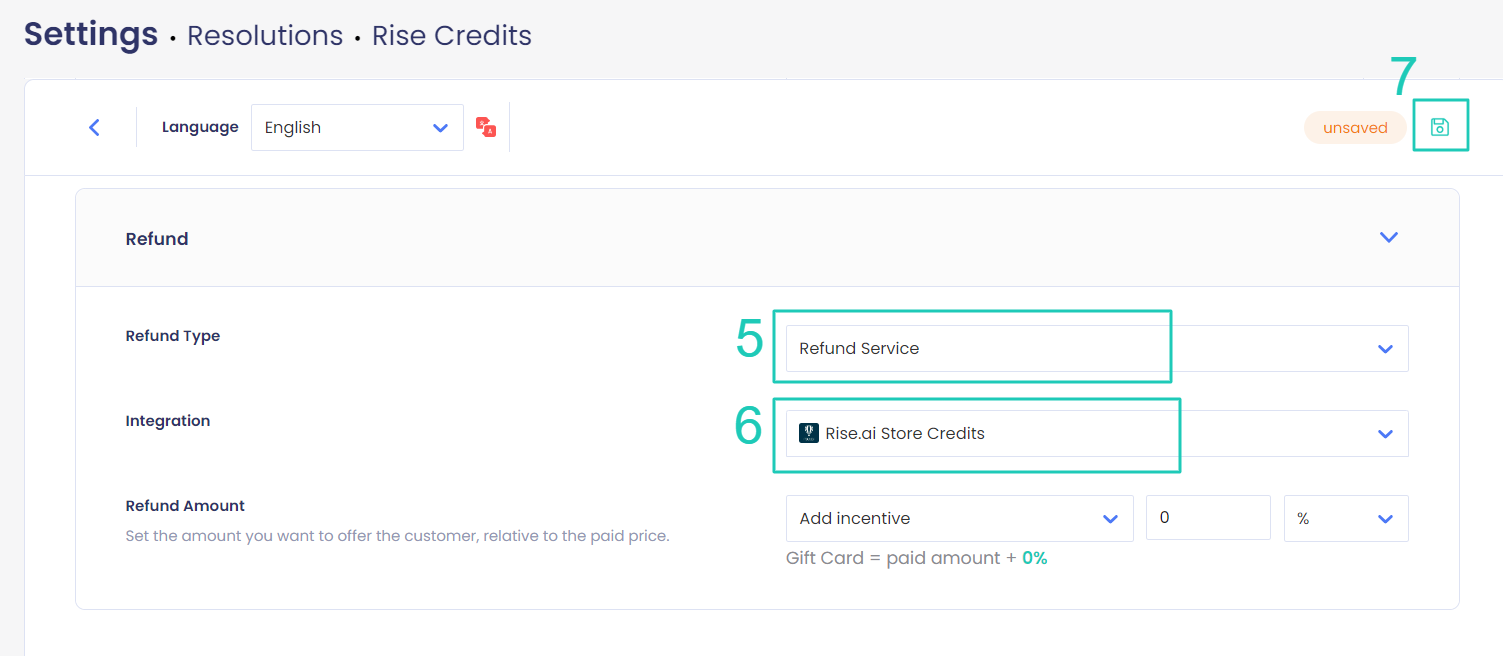 Once you've set up your resolution, you need to add it to a return policy.
To create a return policy using Rise.ai credits:
Go to Settings > Return Policy.
Click ADD RULE.

3. Under Resolution, select the resolution you created for Rise.ai credits.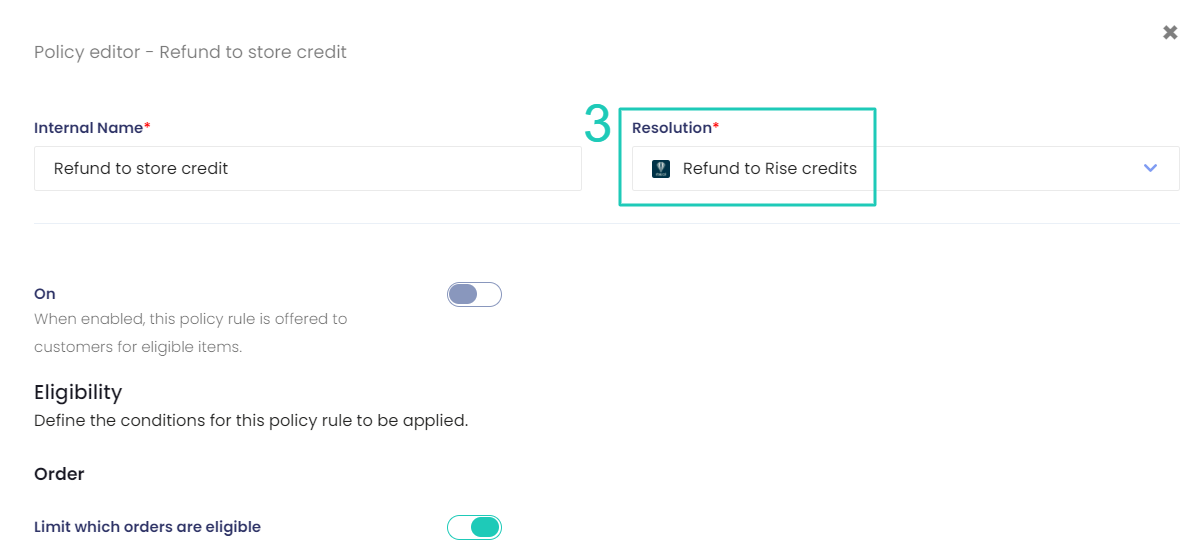 Troubleshooting the Integration
If the integration isn't working for you, please make sure you have it enabled through the Rise.ai Dashboard > Integrations.
For Rise.ai-related issues, please contact Rise.ai customer support.
For any other issues, feel free to contact ReturnGO support through chat or email.