ReturnGO integrates with Brightpearl to help you streamline your returns management. Brightpearl is an ERP software solution designed for online and in-person retail organizations to simplify operations.
With features like inventory management, shipping, accounting, POS, and business intelligence, it offers a comprehensive platform for efficient management.
Requirements
To connect your Brightpearl account you'll need:
Account ID

Your Brightpearl account ID.

Refund method code

Can be found in your Brightpearl Dashboard under Accounting > List bank accounts. Click on needed, then click on edit and copy the 4-digit code.

New Sales Credit status ID (optional)

The ID of the status you want to assign to the Sales Credit. If no status ID is specified, the configured default is used.

New Sales Credit channel ID (optional)


The ID of the channel of the newly created Sales Channel. If no ID is provided, the default is used.

Customer reference prefix (optional)

Prefix to align to the RMA number as a customer reference.
Capabilities
The ReturnGO-Brightpearl integration supports:
Automatic creation of sales credits (RMAs) on Brightpearl
Updating refund information on Brightpearl
Receiving webhook updates from Brightpearl
Linking Your Brightpearl Account to ReturnGO
To link your Brightpearl account to ReturnGO:
Click on +ADD PRODUCT OR SERVICE.
Choose Brightpearl from the drop-down list.
Click on the check mark.

5. Enter your credentials.
6. Click CONNECT.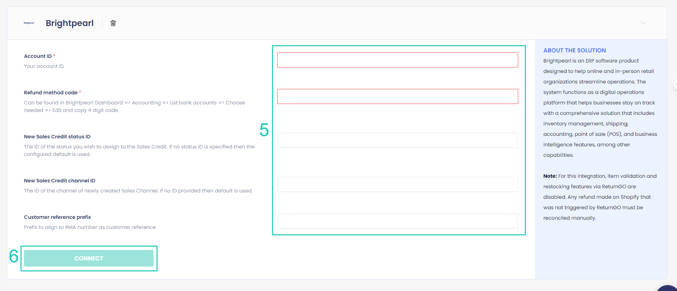 How the Integration Works
Create Sales Credits on Brightpearl
This integration enables the automatic creation of a Sales Credit (RMA) on Brightpearl when an RMA is approved in ReturnGO.
Update Refund Information on Brightpearl
Using the integration, ReturnGO will automatically update the Sales Credit on Brightpearl with refund information.
Webhook Updates from Brightpearl
Receive webhook updates from Brightpearl to automatically update the RMA card and status for the following events:
Items are received.
Items are restocked.
Item Validation and Restocking Features
When using the integration with Brightpearl, the item validation and restocking features in ReturnGO are disabled.
Instead, ReturnGO will get updates from Brightpearl when items are received and when the inspection results are available. This will allow you to automate business processes based on these events.
Refund Reconciliation
Please note that refunds processed in ReturnGO will not be automatically reflected in your Brightpearl ERP. Visit your Brightpearl dashboard to manually reconcile the refund.
Troubleshooting the Integration
Many of the issues encountered related to the integration can be identified during setup.
Here are a few things you can check to try and fix such issues:
Setup Issues
Make sure your API credentials are accurate.
There should be no extra spaces before or after each API entry.
Make sure you are using live or production API credentials, and not dev or test APIs.
Try to re-generate a new API key and reconnect.
Brightpearl-Related Issues
For Brightpearl-related issues, please contact Brightpearl support.
For any other issues, feel free to contact ReturnGO support through chat or email.