A return shipping label is a document attached to the box or package with the returned items.
Return labels include the following information:
Shipping carrier and service type.
Sender and recipient information and their relevant addresses.
Shipping barcode and/or QR code.
These are scanned at each delivery phase until the package reaches the shipping destination.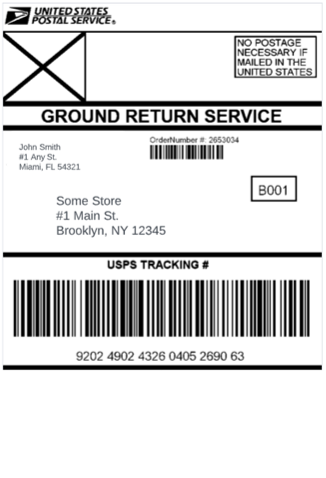 When a Return Merchandise Authorization (RMA) is approved and the RMA warrants a return label:
1. ReturnGO collects the relevant information to create a return label:
The customer's information and shipping address.
Your return address, which defaults to your Shopify store address.
This can be changed to a different address such as your warehouse address via Return Methods.
The total weight of the items being returned.
Note: If a set of items has no defined weight in Shopify, a default weight is used.
2. This information gets forwarded to the shipping service provider to generate the return shipping label.
3. The customer receives the printable return label in the RMA confirmation email.
ReturnGO generates pre-paid return shipping labels through your 3rd party shipping provider, which you can integrate and link with your ReturnGO account.
ReturnGO can request pay-on-scan pre-paid labels from the shipping provider linked to the selected return method, depending on the carrier and service type selected by the customer. This makes it so you won't get charged unless the label is used by the customer.
To offer pre-paid return shipping labels, set up your ship with pre-paid label return method.